Want to make a purchase with a debit card or credit card instead of PayPal? No problem. You can simply proceed through checkout instead of logging in to Paypal. Here's how to do it:
1. After you "Add to Cart" click the "Check Out" button as seen below: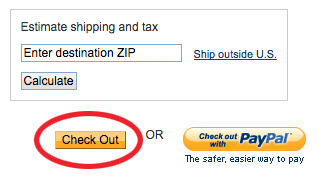 2. Then, choose the "Pay with a debit or credit card" option as seen below:

3. Finally, choose either the Debit card or Credit card tabs, and complete your purchase.